Simplify Decision-Making with Child Support Calculations and Asset Distribution Tools
123 provides dynamic, flexible and powerful decision-making tools to compare scenarios and give your clients clear visibility of their options and how various what-ifs could affect their outcomes.
Help your Clients understand …
What if I keep the family home… can I afford that? How will that affect all the other asset decisions?

What if we sell all the real estate and QDRO John's 401K… how would that turn out?

How will different parenting schedules affect child support Calculations

?

How will the Court's decisions regarding income — variable bonuses or imputed income — affect child 

support?
Give your Decision Maker clear visibility and confidence in your proposals …
Simply present the differences between your client's and the opposing party's separate property claims 

and marital asset distribution desires

Show three periods for modification of Child Support for job change and then emancipation of oldest child
✓ No Credit Card     ✓ Cancel Anytime     ✓ Full Access     ✓ Free Support     ✓ No Contracts
Download Sample 123 Documents
Your Sample Packet Includes
Sworn Financial Statement
Caption, Empoyment, Income, Expenses, Unsecured Debt

Income/Expenses Summary

Assets

Separate Property

Oath
Certificate of Compliance
Primary Report Spreadsheet
Client Scenario Comparison: Only Different Allocations
What if: Sell/Keep Family Home & Condo, QDRO 401K, Hide Separate Property
Compare Parties' Proposals: All Assets and Debts
Husband's and Wife's Final Views Side-by-Side
Child & Spousal Support Worksheets
Court Filing: Combined AGI within Statute; Payor Does Not Deduct; Shared Physical Care

As Exhibit: Combined AGI Exceeds Both Statutes, Both Extrapolated, Payor Does not deduct, Used-Defined Income Tax Adjustment Factor, Sole Physical Care

Court Filing: Combined AGI Exceeds Both Statutes, Both Capped, Payor Deducts, Shared Physical Care
Different Primary Care Offset Report
Child Support Scenario Comparison Report
What if: Different Parenting Schedules

What if: Different Bonus Income
Retroactive Modification of Child Support Calculations for Job Change then One Child Emancipated
What-if Scenario Comparison: Sell or Keep Family Home, QDRO 401K
Help your clients visualize the potential outcomes of various sell or keep real estate scenarios, and QDRO or not of spouse's 401K.
Show them only the different allocations — hiding Separate Property and same marital asset allocations —  for clear visibility of only the differences in the scenarios, and how those differences would affect the potential outcomes.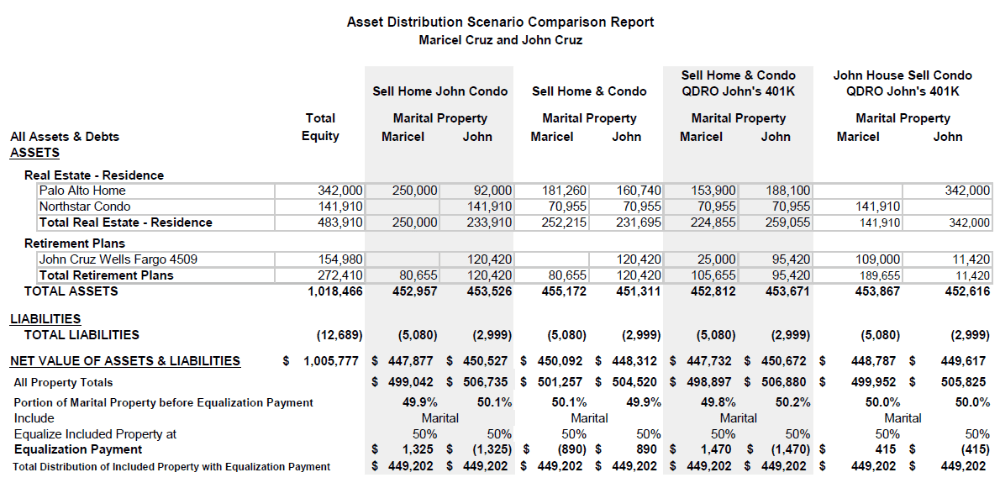 Show Decision Maker the Parties' Final Proposals Side-by-Side
Give the Judge, Magistrate, Mediator, or Arbiter a clear picture of your client's and the opposing party's desires and confidence in your proposals …all at the click of a button.
Updated valuations and balances are automatically reflected in all comparison Excel spreadsheets, print-ready as PDFs.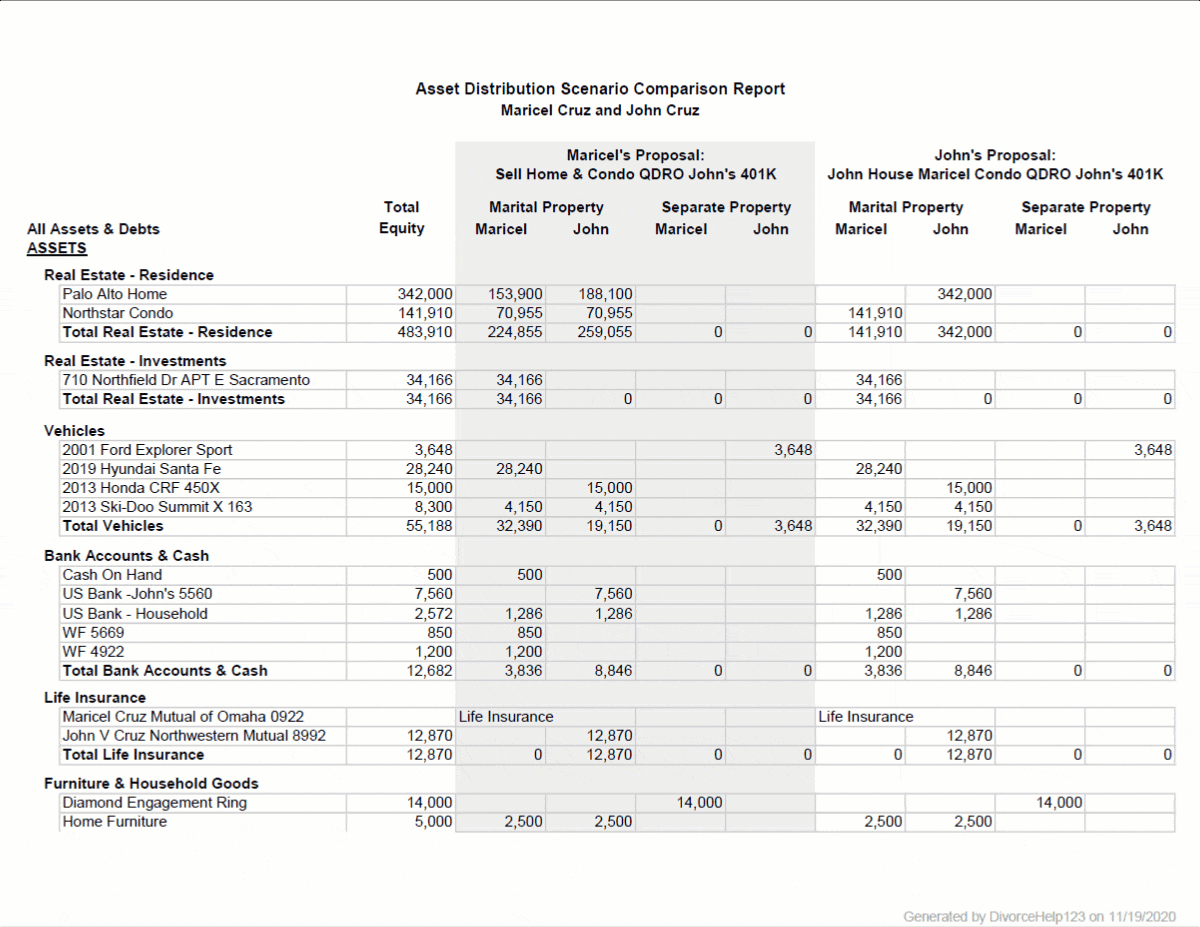 Child Support Calculations: Parenting Time, Income & Expenses Scenarios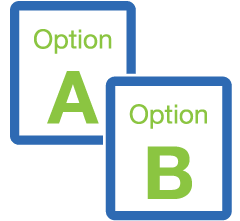 Initially, in a Dissolution of Marriage or Union matter — or non-union Allocation of Parental Responsibilities — your clients need to understand and clearly see how…
overnights

variable income

and expenses
…affect the determination of child support.
Modifications of Child Support can persist for a couple decades…
changes in jobs

changes in parenting time

emancipation of each child
…with each change, by the time the matter comes to a Decision Maker, there may be multiple retroactive periods to consider.
What-if Scenario Comparison: How will different parenting schedules affect child support calculations?
As your clients decide how they would like to share parenting time, easily generate reports that show different overnight scenarios side-by-side.
Selecting the report option to show only different values gives clear visibility of the differences and how they affect possible outcomes.

What-if Scenario Comparison: 

How will variable income 

affect Child Support Calculations?
If one or both parties has variable income, i.e. depending upon bonuses or commissions, the parties will typically want to include the lowest possible income for themselves, and the highest possible option for the other party.  Similarly, if one party is not currently employed there will be a decision regarding if and how much income to impute to that party.
Generate a professional report at the click of a button to give the Decision Maker a clear picture of the two parties' viewpoints.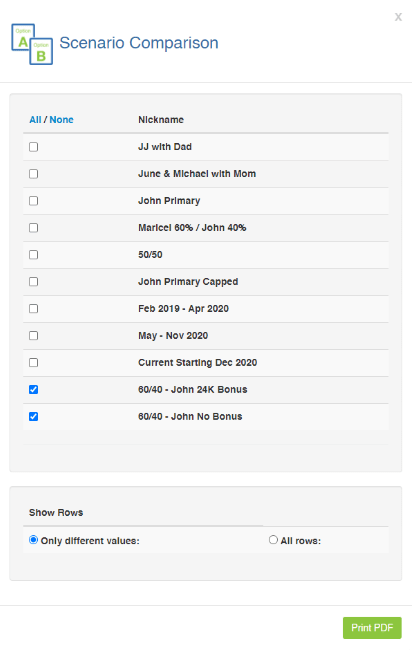 Show Decision Maker the Retroactive Child Support Periods
Modification of Child Support matters may occur several times, post-decree, over a couple decades.
By the time Modification matters are being heard by a decision maker, there may be three or four periods to reflect changes that affect child support.
In this sample, one party changed jobs, then the oldest child was emancipated.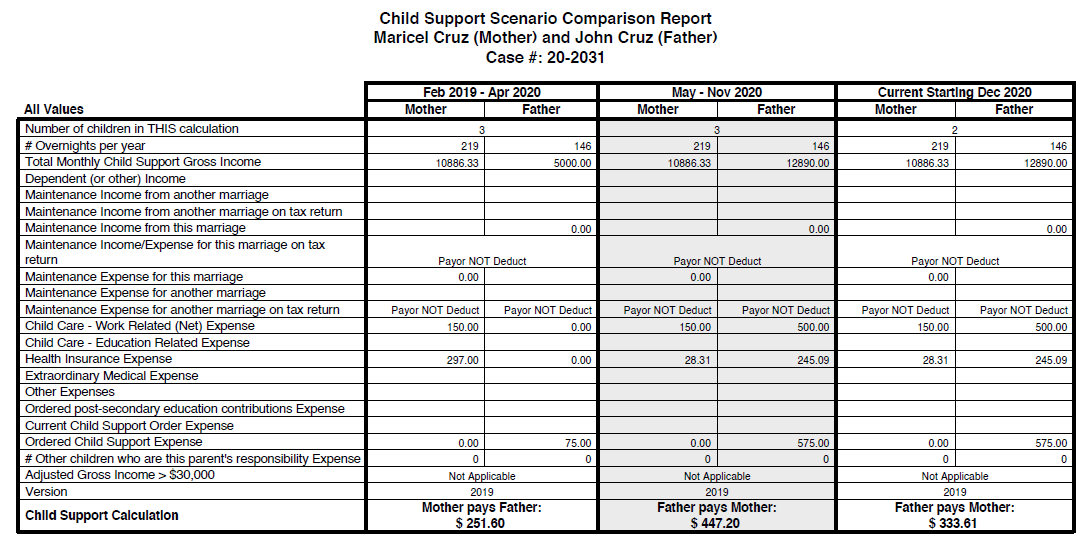 Child Support & Spousal Maintenance
Different Child Primary Offset
Certificate of Compliance & Certificate of Service
Easy Step-by-Step Process for your Clients
Every Day Language your Clients Understand
123 Does the heavy Lifting
Your Time is Spent Doing Most Effective Work
More Automation = More Efficiency
Work Anywhere with Peace of Mind
Protection from Disasters, Failures, and Mistakes
Invest Your Time & Money in Your Law Practice not IT
Firms with Online Software Eased into Remote Services Mandated by COVID without effort
What-if Scenario Comparison: Sell or Keep Family Home, QDRO 401K
Earn the Loyalty of Clients who Return and Refer Their Contacts 
Reduce the Effort Level of the Typical Divorce Process
Convert More Consultations into Paying Clients
Make Intake Forms and Financial Disclosures Easier
✓ No Credit Card     ✓ Cancel Anytime     ✓ Full Access     ✓ Free Support     ✓ No Contracts